Ideal Protein® is part of a customized, comprehensive program.
Rose Pendleton's weight problem wasn't only about the way she looked; it was also about how she felt. "I had been heavy for quite a while," she confides. "My knees were giving me real problems, and I found that I was getting tired more easily."
Like millions of adult Americans, Rose knew she was overweight but felt unable to do anything to get her weight under control. She tested multiple options, but without success.
"I tried Weight Watchers® and Nutrisystem®," she recalls. "I lost a few pounds, but I never seemed to be able to keep them off. With Weight Watchers, there was too much flexibility and counting of 'points.' Keeping that kind of close track of points was a little tedious, and it was up to me to decide what to eat. I found it hard to plan meals."
Eventually, Rose got a wakeup call: her weight was having a measurable effect on her health.
"Besides just being uncomfortable, I was starting to have medical issues," she acknowledges. "I was pre-diabetic, so they were looking at that. My blood pressure, blood sugar and cholesterol were all elevated. My doctor was talking about starting me on some medication, so that was my incentive to really get serious about losing the weight."
In the summer of 2014, Rose read an article in Volusia Health Care News about Dr. Jeremy Gordon, a chiropractic physician and clinic director at DeLand Chiropractic & Spinal Decompression. Dr. Gordon offers comprehensive chiropractic care as well as weight loss with the Ideal Protein plan.
"I got some more information about the weight loss program and finally decided that I needed to do something," Rose remembers. "I started with the Ideal Protein last summer."
Personalized Program
Unlike many weight loss systems, Ideal Protein is part of a comprehensive, personalized plan.
"Ideal Protein is incorporated into a customized program for patients," Dr. Gordon says. "On average, most of our patients lose approximately twelve to fifteen pounds per month."
Based on more than 25 years of experience and more than five million people in Europe and Canada – and now a large group of people in the United States – the Ideal Protein plan enables patients to achieve weight loss quickly without sacrificing muscle mass. The result: improved energy and appetite control, improved blood sugar and cholesterol levels and reduced blood pressure.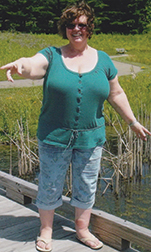 "Ideal Protein helps limit the amount of sugars and dietary fats coming in while providing a high-quality form of protein that is easily absorbed," notes the doctor. "Whereas some plans merely restrict caloric intake so the body will burn fat, that will also burn some muscle. So people lose muscle mass while they're on a lot of these diets. On the other hand, the Ideal Protein program focuses on helping people lose weight by burning stored fat while preserving lean muscle."
Even better, the plan is not simply a substitute for normal food; it also transitions patients to overall healthier eating. They learn healthy eating habits and proper food combinations to allow them to maintain a healthy weight long term.
"There are four supplements that go along with the actual foods that they're eating: a multivitamin, a potassium supplement, a fish oil and a calcium formula," continues Dr. Gordon.
"We have to supplement because we're removing most of the dairy, grains and fruits from their regular diet while they're on the program," he clarifies. "Those three food groups have a lot of mineral content, so we need to make sure patients still get an adequate, balanced amount of minerals. Consequently, we avoid muscle cramps or spasms and things of that nature.
"None of the supplements are like what you see with the different fad diets," continues Dr. Gordon. "There are no diet pills or stimulants in Ideal Protein. The Ideal Protein plan is focused on the body's biochemistry and burning stored fat through eating properly and through proper nutrition. Ideal Protein teaches patients to eat healthy.
"What really sets Ideal Protein apart from most diets is the one-on-one coaching and support provided by our Ideal Protein Coach, Tracee Gmitro," he adds. "She has been an outstanding addition to our Ideal Protein program. Tracee meets one-on-one with our Ideal Protein patients each week to help guide them on their journey to better health and wellness."
Additionally, Dr. Gordon reports that he has installed a private workout and muscle toning facility for his Ideal Protein patients. "Patients can reserve the workout room for thirty minutes for their own private use, and this eliminates the fear and discomfort that many weight loss patients have about going to a gym. They'll be able to do some cardio and muscle toning up to five days per week in their own private room, all at no extra charge."
Goal met…then exceeded
Rose is eating healthier now than she has in years, and the results speak for themselves. After completing the weight loss program, she lost 79.2 pounds overall and more than 13 percent body fat.
"I've learned through the process to eat more vegetables," she reflects. "In fact, I've even discovered new vegetables I hadn't tried before that I like. I have learned how to eat a little bit differently, and that's going to stay with me the rest of my life."
Of course, moderate exercise helps, adds Rose, who has since done things she hadn't done in years: "I'm able to actually go running on the treadmill," she says. "I hadn't run in I don't know how long. It was something I really wanted to do, and now I can do it."
Thanks to the personalized combination of the Ideal Protein plan and her newfound energy, Rose reports impressive numbers with her blood sugar and cholesterol, as well – her sugar dropped from 99 down into the 70s, and her cholesterol is down from 222 to the 170s. "My blood pressure is stable, too," she adds. "It was borderline before, but now it's normal."
Rose says she is absolutely satisfied with the Ideal Protein program.
"The plan was easy for me, and I think that's because it's more structured," she explains. "First, I met my weight goal, then I exceeded it. I'm very happy with that."
She thanks Dr. Gordon and the entire staff for all their help throughout the process.
"They were very supportive and encouraging, and they had a lot of information to give me," Rose assures. "You can tell they truly care about you as an individual and about your success. They're excellent people – I couldn't ask for better."