DRX9000 spinal decompression helps patient without surgery.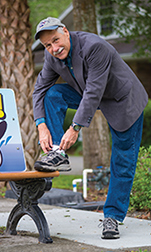 The excruciating pain came on suddenly for retired sales representative Bob Urban. "All I did was get up from the dinner table, and the pain shot from my left gluteal muscles all the way down to my knee. It felt like a steel rod of pain that was about an inch thick – just the most severe pain you can imagine," he describes.
"I've had kidney stones before, and they say kidney stones are like childbirth. This was way beyond a kidney stone."
Bob knew who to call for help: his chiropractor, Jeremy M. Gordon, DC. Seventeen years ago, Bob was suffering fromsciatica, when pain radiates down the leg because of pressure on the sciatic nerve. He sought his first chiropractic adjustment then, which quickly relieved the sciatica, and ever since has undergone regular chiropractic care to optimize his health.
"I've been seeing Jeremy regularly for two years now," notes Bob. "I called him the next day after the pain started that Sunday night at the dinner table. He said, Come right over."
An MRI revealed Bob was suffering from herniated discs in the lumbar region of his spine.
Bob doesn't recall a specific incident that might have caused the severe pain that appeared blindingly fast. But herniated discs can occur suddenly for any number of reasons, educates Dr. Gordon. "They can happen from a lifting injury or from an auto accident. You can also have chronic degenerative changes as well."
About Decompression
Dr. Gordon recommended spinal decompression therapy for Bob on the DRX9000 decompression system.
"If you want to get the best results for your patients, I believe that you need to have the best equipment available," says Dr. Gordon. "In my opinion, the DRX9000 nonsurgical spinal decompression system is unequaled in its design and clinical results. The DRX9000 system primarily benefits patients with herniated, bulging or protruding discs; spinal stenosis, degenerative disc disease and those suffering with neuropathy in the arms or legs, as well as those with post-surgical neck and/or low back pain."
DRX9000 technology has multiple design elements that make therapy easy on the patient, whether the problem is in the lumbar spine in the lower back or the cervical spine in the neck area.
"The patient is able to relax and close their eyes while the treatment is performed, gently stretching and decompressing the discs of the spine," describes Dr. Gordon. "This gentle motion increases disc spaces and reduces the size and severity of herniated, bulging or degenerative discs and restores nutrients and hydration.
"Unfortunately, many people choose to have back or neck surgery when it may not be necessary," warns Dr. Gordon. "By contrast, the DRX9000 has an excellent track record. After tracking our results over the last five years, I am very proud to say that we have a patient satisfaction rate of nearly eighty-five percent, even with those patients who were told that surgery was their only option. That's a much higher satisfaction rate than invasive surgery."
Decompression treatments are typically followed by cold therapy and/or electrical muscle stimulation to restore proper muscle tone, decrease inflammation and maximize the effects of the treatment. Cervical spinal decompression is also accompanied by laser therapy, which decreases nerve root inflammation and improves the healing process.
Simple and Effective
Bob reports that spinal decompression therapy was painless, simple and highly effective. He received treatments over a period of six weeks and made rapid progress. About ten days after his first session, "I was down to ninety percent pain free most of the time," he describes, "and then four days later, I had my first totally pain-free day. I haven't had any pain for about three weeks now.
"Jeremy is the best and he is so generous. My wife and I are just so grateful to have him," enthuses Bob. He also is thankful for Dr. Gordon's staff. "They are so professional and so giving. They're What can I do for you? type of people. You always benefit from going to their office. It's always a great experience."
Along with his wife, Marilyn, Bob is diligent about fitness. Being sidelined by a back injury wouldn't suit his lifestyle. He swims laps in the couple's 40-foot swimming pool and still weighs the same as when he graduated high school in 1965. He and Marilyn plan to continue their regular visits to see Dr. Gordon for chiropractic care and guidance.
"Every visit, we learn something. I always go with a few questions," affirms Bob. "We're trying to stay healthy because that's the name of the game for us."