Along with a customized exercise plan, the Ideal Protein® plan enables patients to lose those pounds easily – and keep them off.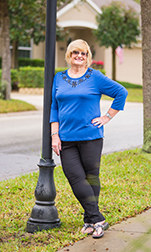 Sondra Wafler has struggled with her weight over the years.
"I've tried different diets," she confides. "In fact, over the last five years I've actually lost eighty pounds."
Still, that accomplishment alone was both difficult and, at times, downright unpleasant for Sondra.
"After losing that weight, I hit a plateau," she continues. "I didn't lose any more weight during the last year. I hated counting calories. The different diets didn't work for me. I know Weight Watchers works for some people, for example. It just didn't for me."
Luckily, a talk with a friend led Sondra to try the Ideal Protein plan offered by Dr. Gordon.
"I was at a luncheon and one of my good friends was talking about Dr. Gordon and how he had helped her," she recalls. "She recommended that I go to him."
After discussing her health and particularly her weight with the doctor, Sondra realized it was time to get serious about losing more pounds.
"I knew that if I didn't start doing something to lose some of this fat, I could have a stroke or a heart attack. I also have diabetes, so I needed to get my blood sugar down. I decided, Okay, I'll try the Ideal Protein."
Personalized program
Unlike many weight loss systems, Ideal Protein is part of a comprehensive, personalized plan.
"Ideal Protein is incorporated into a customized program for patients," Dr. Gordon says. "On average, most of our patients lose approximately twelve to fifteen pounds per month."
Based on more than 25 years of experience and more than five million people in Europe and Canada – and now a large group of people in the United States – the Ideal Protein plan enables patients to achieve weight loss quickly without sacrificing muscle mass. The result: improved energy and appetite control, improved blood sugar and cholesterol levels and reduced blood pressure.
"Ideal Protein helps limit the amount of sugars and dietary fats coming in while providing a high-quality form of protein that is easily absorbed," notes the doctor. "Whereas some plans merely restrict caloric intake so the body will burn fat, that will also burn some muscle. So people lose muscle mass while they're on a lot of these diets. On the other hand, the Ideal Protein program focuses on helping people lose weight by burning stored fat while preserving lean muscle."
Even better, the plan is not simply a substitute for normal food; it also transitions patients to overall healthier eating. They learn healthy eating habits and proper food combinations to allow them to maintain a healthy weight long term.
"There are four supplements that go along with the actual foods that they're eating: a multivitamin, a potassium supplement, a fish oil and a calcium formula," continues Dr. Gordon.
"We have to supplement because we're removing most of the dairy, grains and fruits from their regular diet while they're on the program," he clarifies. "Those three food groups have a lot of mineral content, so we need to make sure patients still get an adequate, balanced amount of minerals. Consequently, we avoid muscle cramps or spasms and things of that nature.
"None of the supplements is like what you see with the different fad diets. There are no diet pills or stimulants in Ideal Protein. The Ideal Protein plan is focused on the body's biochemistry and burning stored fat through eating properly and through proper nutrition. Ideal Protein teaches patients to eat healthy.
"What really sets Ideal Protein apart from most diets," Dr. Gordon continues, "is the one-on-one coaching and support provided by our Ideal Protein Coach, Tracee Gmitro. She has been an outstanding addition to our Ideal Protein program. Tracee meets one-on-one with our Ideal Protein patients each week to help guide them on their journey to better health and wellness."
Additionally, Dr. Gordon reports that he has installed a new, private workout and muscle toning facility for his Ideal Protein patients. "This will enable patients to reserve the workout room for thirty minutes for their own private use, and will eliminate the fear and discomfort that many weight loss patients have about going to a gym. They'll be able to do some cardio and muscle toning up to five days per week in their own private room, all at no extra charge."
Successful outcome
"I've only been doing Ideal Protein since September and have already lost thirty pounds," marvels Sondra.  "For the last year before I went on Ideal Protein, I was at that plateau," she reminds, "where I just couldn't lose anymore. I was trying, but nothing was working. So this has been fantastic."
She adds that the plan is not at all difficult for her, even though her dietary restrictions are over and above what other patients would have.
"It is strict, but it's doable," she assures. "I'm a little more restricted than some people, having diabetes, but I can do this."
Sondra enjoys the Ideal Protein food choices, including snacks that satisfy any cravings she might have during the day.
"I have a protein pack for breakfast and lunch, and then for dinner I usually have some kind of a lean meat, with two cups of green vegetables or cauliflower," she reports. "They also have these salt and vinegar crisps, which satisfy the craving for potato chips. In fact, I don't even have a craving for chips anymore. They really help you get over some of those cravings."
Sondra is also exercising, which helps with her renewed health.
"I'm going to the fitness room, working out," she enthuses. "They have a bicycle, they have a stepper and they have another machine that works your arms, back, chest and legs. That's what I'm concentrating on right now."
She appreciates Dr. Gordon and his staff for providing her with a comprehensive, personalized plan to lose weight without losing muscle tone.
"My diet coach, Tracee, is great," says Sondra, "and Dr. Gordon is very knowledgeable not only with the body and injuries, but also as far as nutrition goes. If I have any question about the diet, I know I can ask him and he'll answer it. I really like him.
"I couldn't be happier with my experience there."